< Back to Events
Unlock the Power to Declutter: Session I
Wednesday, April 6, 2022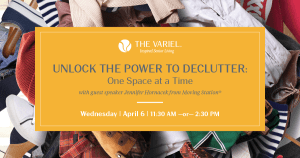 Whether it's been a few years or a few decades since your last move, you know that moving involves some effort. But we've found a way to make the whole process easier.
To simplify the steps leading up to moving day — and make it a day you can look forward to — we're offering the services of a Personal Relocation Manager through our partnership with Moving Station®.
What's more, we're having a special event so you can learn all about it. You'll hear how your Personal Relocation Manager can offer guidance with:
• Decluttering and rightsizing your belongings
• Preparing your house for the market
• Knowing all of your options for selling your house
• Paving the way with tips, tools, resources and support
— so you can make a smooth and seamless transition
Light refreshments will be provided.
For the protection of all guests, masks and proof of vaccination will be required.
---
Details
Date:
Wednesday, April 6, 2022
Time:
11:30 AM
Location:
The Variel Discovery Center 6160 Variel Ave., Woodland Hills, CA 91367