< Back to Events
FULL – Please, Be Our Guest.
Thursday, March 24, 2022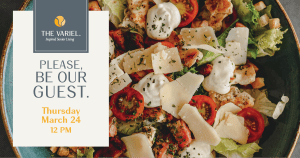 Join us for lunch and get the details about our pre-opening program for early depositors.
While we're getting closer to opening our doors this summer, you still have the opportunity to participate in our Pre-Opening Program.
As a Pre-Opening Depositor, you would enjoy some highly appealing benefits, such as 25% off the community fee and more.
To learn more, come have lunch with us. Along with an enticing meal, we'll also treat you to a preview of the alluring lifestyle that could be yours — only at The Variel.
For the protection of all guests, masks and proof of vaccination will be required.
---
Details
Date:
Thursday, March 24, 2022
Time:
12 PM
Location:
The Variel Discovery Center 6160 Variel Ave., Woodland Hills, CA 91367
Event Registration
We apologize but this event has reached max capacity.