< Back to Events
Lunch and Learn
Thursday, May 19, 2022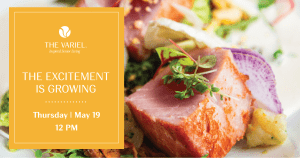 As opening day draws nearer, we're not the only ones filled with anticipation. So are those who've already decided to make The Variel their next home.
We invite you to learn more about inspired senior living at The Variel over lunch. Plus, there's still time to reap all the benefits and exclusive savings of being a Pre-Opening Depositor.
Space is limited and registration is required. Please RSVP by Thursday, May 12. 
---
Details
Date:
Thursday, May 19, 2022
Time:
12 PM
Location:
Warner Center Marriott Woodland, Hills Hidden Hills Room | 21850 W. Oxnard St. Woodland Hills, CA 91367